Over 50 Years
Serving our Neighbors!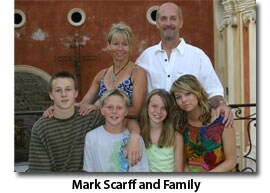 The Way We Were...
The Scarff name has been associated with Ford automobiles in the Green River Valley for three generations, beginning with Way Scarff, who opened his Ford dealership in 1922. Selling iron wheel tractors and Model T's, Scarff established a tradition of public service based on integrity and strong ethical business principles.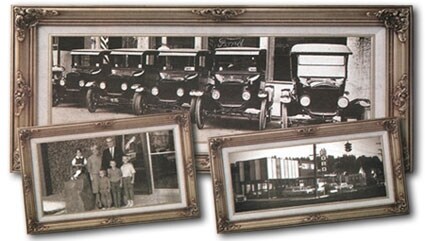 Bowen Scarff, the second of three sons, carried the family tradition to Kent by opening his own Ford dealership  in 1958.
Originally located at the corner of Central and Smith, Bowen Scarff Ford started with only two salesmen and five mechanics on a 120' x 120' lot. 

A strong community activist, Bowen Scarff has served as president of the Kent Rotary Club, the Kent Chamber of Commerce, and the Washington State Automobile Dealers' Association.  He also served as a hospital commissioner from 1968 to 1973.
"Our goal has always been to build sales b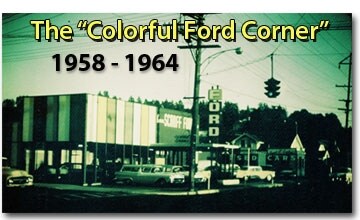 ased on repeat customers," Bowen says of his business, which has built a reputation as "The Believable Ford Store."
Crediting those who work in the business for its success, Bowen emphasizes the high quality performance of many longtime employees, such as Otto Speck who has been with the company for over 50 years. As well as Chet Wyman and Mark  - both helping to make our store a better place for 35 years. "Quality people deliver quality service ," Bowen Scarff says.

The Way We Are...
In 1975 Bowen Scarff ford was selected as Time Magazine's Dealer of the Year

. 

In 1993, with the assistance of customer feedback, Bowen Scarff Ford moved to no-haggle selling and its trademark No-Dicker Sticker?. They have continued with this negotiation free selling philosophy down to this day. Bowen Scarff is the only one-price Ford dealer serving Puget Sound - posting the best price on every vehicle every day. You don't have to haggle at all to get a great deal, and the entire transaction is faster and more relaxed. They don't have professional "closers" so you can   handle the entire sale with a single sales consultant to keep things simple 

In 1997 Bowen's son, Mark Scarff, became General Manager of the store as it started its 40th year in business. Mark - like his father - is very passionate about supporting the community. He served as president for the Kent Rotary Club, has been involved with the Chamber of Commerce, and enjoys the opportunities he has had to help support our many great schools and their teams in the local area.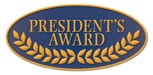 In 2008 Bowen Scarff Ford added LINCOLN into its vehicle line up becoming the only one-price Ford-LINCOLN dealer  with the No-Dicker Sticker?.
Starting with only 11 employees and a few vehicles in 1958, Bowen   Scarff has expanded to more than 100 employees. They have been here in the Kent area keeping Evergreen State Ford  customers happy during and after the sale for over 50 years. The reason for their conti

nued success is their friendly people, who've won numerous awards for both sales and service.
A measure of the success Bowen Scarff has had in making happy satisfied customers is reflected by the 16 Presidents Awards we have won. The President's Award is considered the highest honor a Ford dealership can obtain from Ford. It is based on feedback from our customers. Only 400 awards are given yearly to the over 5,000 Ford dealers nationwide. Bowen Scarff has won this award more times than any other volume Ford dealer in Washington State.
We'd rather have valued long-term customers than fast sales!

Thank you to our Customers for over 50 years of business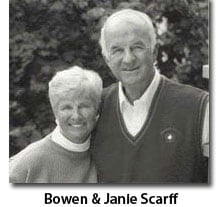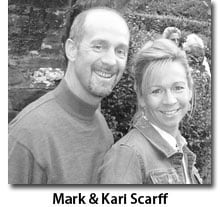 We started in 1958 in a small wooden building at the corner of Central Avenue and Smith Street. Ford products had been sold there since the early 1920s, making it a natural place for us to settle.
 
We put up some brightly-colored plywood panels to square it off, put the smallest 1958 Ford we could find in our one-car showroom, called ourselves the "Colorful Ford Corner" and we were in business. Otto Speck, Ed Van Sickle and Frank Bosik got our service department going. Jack Meridith and George Barber joined the sales staff near the end of the year and we started selling Fords. The seven years that followed - where we operated out of that small building on a 120'x120' lot, had to be some of the best times ever. It was always exciting because it was always growing! We developed the greatest bunch of customers any businessman could ask for...and so many, many of them personally brought their friends to Bowen Scarff to buy.
 
The Greater Seattle area has graciously accepted us through the years, and for that we are very grateful. It's still great fun and very exciting to be in this business because it is ever changing, challenging and growing. Thanks to all of you wonderful friends who made it so.
Ford
dealer serving Tacoma